As you can imagine, the legal world has been significantly impacted by the current pandemic. Most recently, the Idaho Supreme Court has issued an order limiting access to the courts. The seventh district, where most of my cases are litigated, limited access to the courts consistent with this instruction.
On March 30, 2020, the Court stated that only the following hearings would be permitted:
In-custody arraignments
Rider Review hearings if held telephonically.
In-custody preliminary hearings
Civil Protection Order hearings
Child Protection proceedings
Emergency Guardianship proceedings
Termination of Parental Rights hearings
Adoptions
Juvenile Detention hearings
Civil Mental Commitment proceedings
Civil Proceedings addressed in IRCP 65, IRFLP 507 & 508
Eviction actions where the basis for eviction is that the unlawful delivery, production or use of a controlled substance is taking place on the premises
Cases where judges determine an emergency exists
Matters where consensus is that they can be submitted to the court for decision based upon the existing record, stipulated facts or evidence, affidavits and briefing.
Here is a copy of the letter:
As you can imagine, most consumer related cases are not going to fit in any of these categories of permitted cases. A number of my cases have definitely been delayed. I assume even after the stay-home order is lifted, there will be much adjustment with the court's schedules and I expect all litigants will have to exercise patience as the court re-adjusts to normal life.
In fact, since delays are to be expected, the Idaho Supreme Court also issued an order tolling the time (ie: pausing the running of time) for serving a summons in a case. This means you will not count the days between March 26 and April 18 towards the service deadline. See Supreme Court order:
Finally, coordinating all of the recent changes has resulted in many practical adjustments to the practice of law as many offices have shifted to providing more remote services and moving out of the office. I have also temporarily moved out of my office. I transferred my work space to my home office, but since I have all my kids home because school is out, it was very difficult to get things done. As such, I again moved by operations. This time I ended up in a corner of an unfinished part of my basement.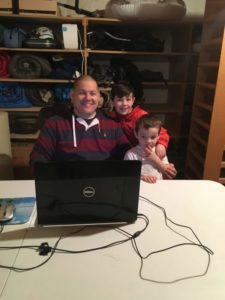 If you have any specific questions about your case or legal situation, please contact me.